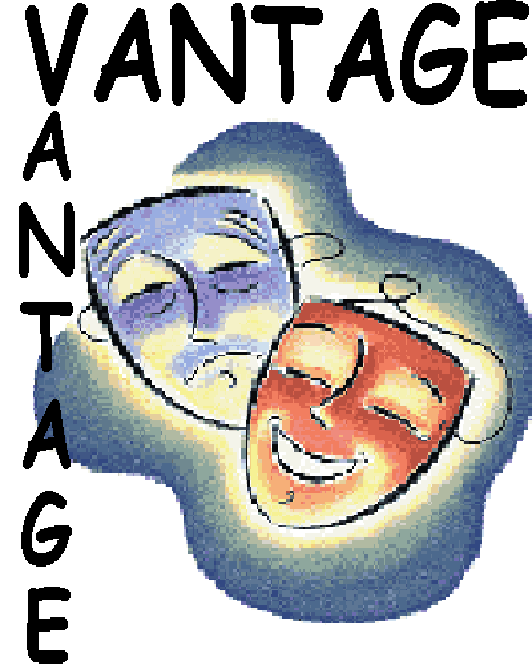 VANTAGE NewWorks/Vantage Theatre
Theatre From a Different Vantage Point
"Vantage is one of the few companies in San Diego that is brave enough to produce new theatrical works and should get a sustained standing ovation"-- SD Theatre Scene
http://www.facebook.com/VantageTheatreSanDiego
Coming Soon...
DURING THE SAN DIEGO INTERNATIONAL FRINGE FESTIVAL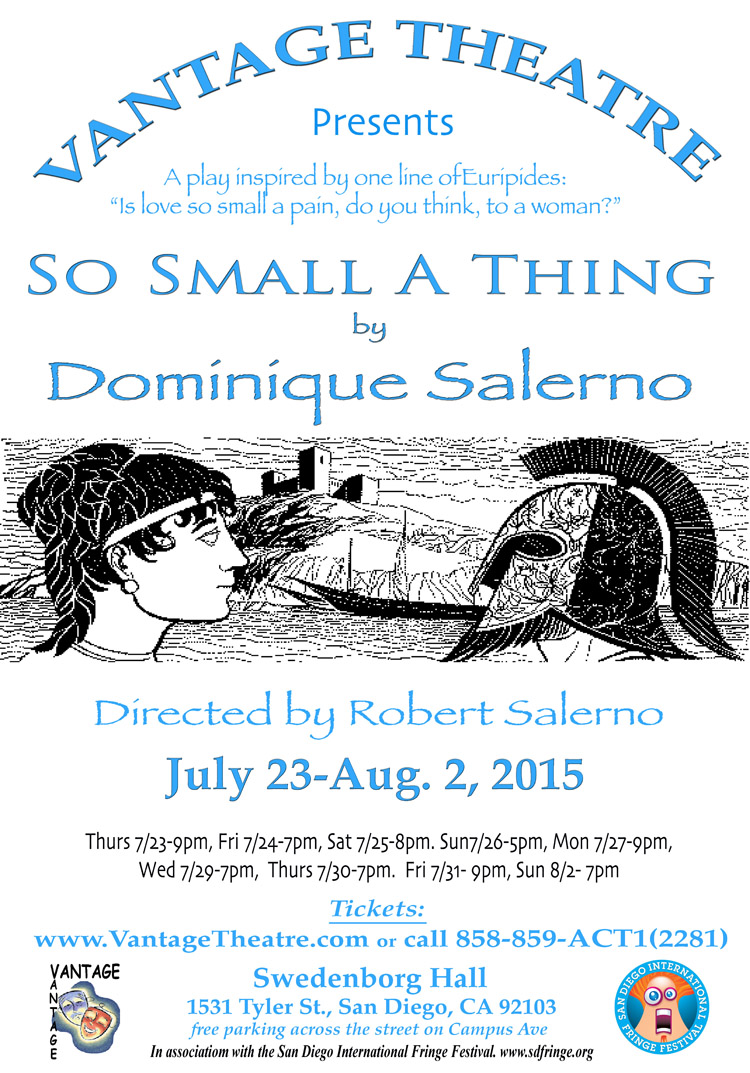 call:858-859-2281
*SPECIAL DISCOUNT PRICE
: BUY BOTH SHOWS (IN THE SAME EVENING)
Select the day and type of seating, then ADD TO CART to select number of tickets
For "SO SMALL A THING" Tickets: Go to: https://sdfringe.ticketleap.com/so-small-a-thing/dates
SAN DIEGO PREMIERE
So Small A Thing
by Dominique Salerno
A new, modern take on the ancient story of Jason and Medea. Trapped in a stuck elevator in the afterlife, this mythic couple grapples with issues of love, sex and loyalty, that still resonate in today's modern world. This brand new play, astonishingly well-written, is full of humor, wit, and passion. This is sure to be an audience favorite.
Plus, are you ready for
THE SECOND COMING?:
In 2014, all performances sold out, and people had to be turned away. Now,
He's Back....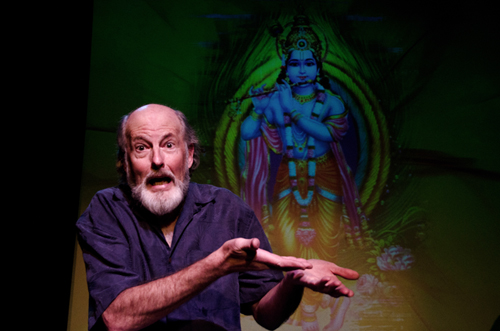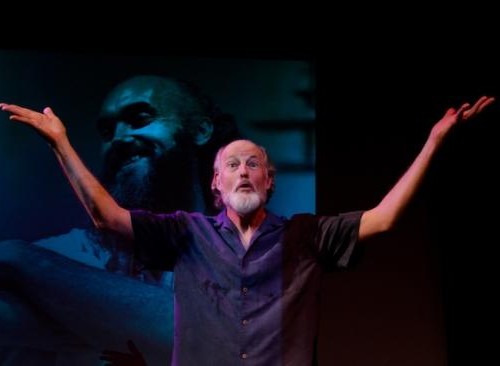 BE HERE NOW:
The Journey of Ram Dass
BY LYNNE KAUFMANN
Starring WARREN DAVID KEITH
" A pitch-perfect performance by Warren David Keith... An anecdotal meditation…a tale as might be told by its subject, full of self-deprecating humor…tantalizing; teeters on the brink of enlightenment."—Rob Hurwitt, SF Chronicle
" An engaging performance…humorous, gently affecting one-man show"— Georgia Rowe, SF Examiner
" An unforgettable show about an unforgettable man, with acting, writing and directing all hitting the mark."—Doug Konecky, SF Theater Blog
Turn On, Tune In, Drop By…
Come on a psychedelic journey to enlightenment with Ram Dass (aka, Richard Alpert) who, along with Timothy Leary, was kicked out of Harvard for LSD experiments in the 1960's. After that glimpse behind the curtain of life, Alpert traveled to India, studied intensively with his guru, Neem Karoli Baba, and was given the name Ram Dass which means "Servant of God." He returned and wrote the definitive book, Be Here Now and became the spiritual father of the 60's. The rest is history…
The play has been seen by Ram Dass himself and received his blessing.
Vantage Theatre is once again taking San Diego audiences on an enlightened journey-- presenting this critically acclaimed new play.
Four performances only! SEATING IS LIMITED. ORDER TODAY.

FREE PARKING IN LOT ON CAMPUS AVE (1/2 BLOCK AWAY)
See a live stage production on the life and works of Richard Alpert, aka Ram Dass from his years with Timothy Leary at Harvard through India, Summer of Love, the perils of the Guru life, the re-birth through the Dharma path, the Stroke, to the present.
SURPRISE GUEST PERFORMERS MIGHT BE ADDED TO THE SHOW
So be prepared to stay for some extra time after the show.
MUST CLOSE AUG 2.
TICKETS VERY LIMITED.
ADVANCE PURCHASE STRONGLY ADVISED.

TICKETS
purchase online or
CALL: 858-859-2281
Namaste!
"BUY HERE NOW"